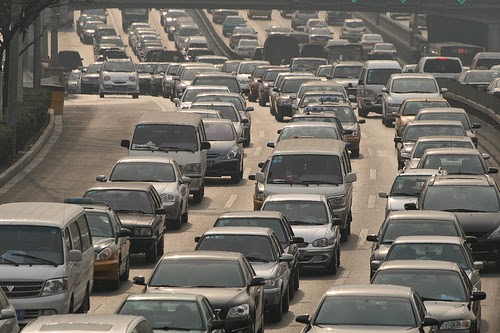 Turn signals are counterproductive.
It's happened to everyone. You're stuck in heavy traffic, crawling a few inches an hour. Annoyed at everyone else on the road, you decide it's time to change lanes. Thankfully, the guy next to you seems nice. He left a small gap, basically inviting you to move in front of him. With a grin, you flick the turn signal. Then he quickly crushes all of your faith in humanity by tapping on the accelerator. Gap closed. Opportunity lost. Day ruined.
Don't worry. I've figured out how to solve this problem. Using my innovative strategy, I can freely change lanes in heavy traffic whenever I want. And this has been a closely guarded family secret.
Until now.
So buckle up (both figuratively and literally), and prepare yourself to be amazed:
STEP 1: Lower your sunglasses on your nose. Make them look like an old lady wearing reading glasses. Just trust me on this. It increases the effectiveness of what you're about to do.
STEP 2: Engage your turn signal. Why? Two reasons. First, it tests the character of the person next to you (Sorry optimists, but I'm basically guaranteeing they won't let you in). Second, it's the law. Cool people obey the law.
STEP 3: Roll down your window. I don't care if it's January in Fargo – just do it. If you don't like the cold air, crank up the heat first.
STEP 4: Increase the space between you and the car in front of you. But don't leave too much room. You wouldn't want to let anyone in front of you. Just leave enough space to safely execute the next few steps.
STEP 5: Turn your head, and stick it slightly out the window. Be sure your sunglasses are still down on your nose. This is the key to making everything work.
STEP 6: Quickly turn back, and look the other driver directly in the eyes. Give them one of those stern "let me in" looks.
STEP 7: Keep staring, with your head slightly tilted down and your eyebrows raised. At this point, you'll notice the other driver pretend they don't see you. Why? They're embarrassed that you caught them intentionally keeping you from changing lanes. The overwhelming shame of this selfish decision is too much to bear. That means it's time to close the deal.
STEP 8: Carefully stick your arm out the window, and point to that tiny space they've left. While your arm is out, quickly glance forward to make sure you're not going to crash. Then, turn back and give one more intense glare. The other driver will immediately act surprised to see you. Miraculously, they'll widen the gap and let you in. Some will even wave you over with a fake smile.
STEP 9: Place your head and arm back inside the vehicle, and take your spot in the next lane. Once you've taken your rightful place, raise your right arm and give them a courtesy wave. This will make them feel like they did something generous.
VARIATION: If you've got someone in the passenger seat and need to move to the right, ask them to perform a variation of the above steps. Just have them add a little more emotion. Since they don't have to watch the road, they can afford the extra effort.
DISCLAIMER: I'm not responsible for any accidents caused by you doing this incorrectly. The technique above is designed for traffic jams only. Lesser variations should be applied to faster moving situations.
Your life has now changed for the better. Feel free to thank me in the comment section below.