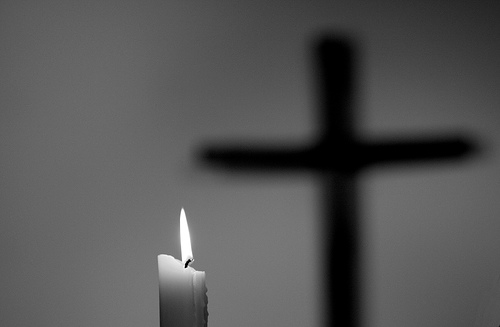 Dietrich Bonhoeffer went to America looking for Jesus, and he found Him in Harlem.
Christians around the world know Bonhoeffer for his courageous stand against the Nazis during World War II. Many have been inspired by the beloved martyr's powerful words in The Cost of Discipleship. But few know anything about his life changing experience among African Americans.
I first heard this unlikely tale from author and radio host Eric Metaxas. His exhaustive biography Bonhoeffer: Pastor, Prophet, Martyr, Spy eloquently highlights these pivotal months in the German theologian's life. Were it not for my own experience in an African American church a few weeks ago, the story would have completely escaped my mind. But it all came flooding back as we stood to sing a hymn for Black History Month.
****
By 1930, Dietrich Bonhoeffer was already an accomplished but frustrated intellectual. Church rules prevented anyone from being ordained until age 25. So this ambitious 24 year old with a PhD in Theology would have to wait for a year. Instead of sulking, he accepted a fellowship at Union Theological Seminary in New York City. On September 6th, he boarded a ship for the transatlantic voyage to Manhattan.
Thus far, his faith was more cerebral than personal. It was also unfashionable. Many Christian theologians at the time were exceedingly liberal in their doctrinal positions. This was particularly the case in New York City. Bonhoeffer's witty observation summed up the atmosphere well,
In New York they preach about virtually everything; only one thing is not addressed…namely, the gospel of Jesus, the cross, sin and forgiveness, death and life. (p. 106)

His intellectual prowess and orthodox beliefs could have made for a boring and frustrating stay in Manhattan. But an African American man named Albert Franklin Fisher would change the course of the trip, and his life.
Fisher must have sensed Bonhoeffer's spiritual weariness when he invited him to worship at Abyssinian Baptist Church in Harlem. Most white Americans at the time would have balked at the idea. But this blond haired German theologian was untainted by our long history of racial hatred, and gladly accepted.
Bonhoeffer was almost instantly enraptured by what he encountered. Reverend Dr. Adam Clayton Powell Sr. proclaimed the saving power of Jesus Christ from the pulpit with intellectual sophistication, fiery passion and clarity. In the midst of his gospel proclamations, Rev. Powell boldly spoke against the evils of racism in a country entrenched by legal segregation. It was a vibrant, passionate, and socially conscious faith unlike anything Bonhoeffer had ever seen.
Can you picture it? A white German man in 1930's America worshiping in an African American church. It must have been a spectacle! Particularly when Bonhoeffer immersed himself in this community of believers for the rest of his stay in New York City. He worshiped there every Sunday, and taught a Sunday school class for boys. He scoured local record stores in search of the songs he heard performed during services. Those albums would be among his most prized possessions the rest of his life.
It didn't take long for Bonhoeffer to become deeply troubled by segregation in American society. He was once refused service at a restaurant for trying to dine with a black friend. Later, on a trip through the South, he made the following observation about what took place on trains,
I found that the cars of the negroes generally looked cleaner than the others. It also pleased me when the whites had to crowd into their railway cars while often only a single person was sitting in the entire railway car for negroes…It is a bit unnerving that in a country with so inordinately many slogans about brotherhood, peace, and so on, such things still continue completely uncorrected. (p. 114)
These experiences among African Americans changed Dietrich Bonhoeffer forever. His family and friends noticed the difference when he returned to Germany. Some believe these precious months are what moved his faith from his head to his heart. No wonder he so fearlessly stood against the Nazis a few years later as they attempted to eliminate Jews in Europe.
****
So there I was, standing among an African American congregation in Cleveland, Ohio celebrating Black History Month. And it was moving. I came to realize what Bonhoeffer discovered more than 80 years earlier. If you want to find the presence of Jesus throughout the tapestry of American history, you need to search for the golden thread of the black church.
It was born in the shackles of slavery. It sang praises in the midst of hundreds of years of torture and oppression. It stood tall while enduring a freedom dashed by a century of legalized inequality. It marched softly toward Biblical justice through the power of prayer. It produced pastors like Fred Shuttlesworth, Ralph Abernathy and Dr. Martin Luther King Jr. who God chose as his vessels to awaken America to her unrealized ideals.
So Black History month isn't just for African Americans. It isn't even just for Americans. It's for 1930's German theologians. It's for all Christians.
photo credit: The intention of the Holy Ghost is to teach us how one goes to heaven, not how heaven goes. via photopin (license)