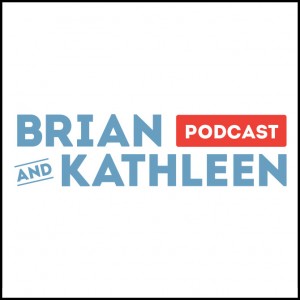 Join Brian and Kathleen for unscripted conversations about current events, trending topics and faith issues that matter. Plus they'll share an extra dose of awkward personal stories and terrible jokes.
Brian and Kathleen endeavor to dig deeper. Push the boundaries. And other related clichés.
Hopefully you'll laugh with them. Or at them. Either way, eavesdrop as they stumble along trying to grow closer to Jesus.
Before you head over to listen, would you consider doing us a favor? If you enjoy what you hear, please take time to rate and review our Podcast on iTunes. It really helps us spread the word, and get noticed. Pretty please?
CONNECT TO US:
"Brian and Kathleen are posing questions worth asking in their own quirky style. It's faith-based. Straight-forward. Funnier than we might expect."