Productivity requires strategy.
It's easy to get overwhelmed by the amount of information we're forced to interact with on a daily basis. Email spews hundreds of messages, calendars are overflowing with meetings, voicemails are piling up, and you've got a stack of business travel receipts to reconcile and report. These problems plague virtually everyone in business. Without a proactive plan in place, you're never going to get ahead. You'll also end up regularly eating your way through an entire bottle of antacids.
I don't want to be a victim in this battle. So, I've spent the last few years searching for productivity strategies that actually work. Sadly, I've read far too many articles that offer nothing but gimmicks, lame apps, and ideas that stink. However, I've discovered a few strategies that have actually enhanced my overall productivity. In an effort to make your life just a little bit easier, I'll share 5 of my favorites:
Boomerang – Lots of people use their email inbox as an ongoing to-do list. I'm one of them. Unfortunately, the number of emails sitting in my inbox can get out of control. What do you do with emails you don't want to forget, but don't need right now? How can you keep your inbox from containing dozens of messages that keep you from efficiently prioritizing your work? The answer is simple: Boomerang. This plug-in for Outlook and Gmail is absolutely incredible. In fact, it has enabled me to completely empty my inbox of emails on a daily basis. If you've never consistently experienced the stress relief of zero items in your inbox, you have no idea what you're missing. The developers of this plug-in have lots of helpful information on their website, but the concept is really quite simple. Rather than ask you to reject the comfortable system of utilizing your inbox as a to-do list, it embraces the concept and makes it work. Boomerang takes an email you don't need until tomorrow, next week or any other date in the future and stores it for you. The message is kept securely in a folder created within your email software. Have no fear – messages can be easily accessed anytime you need them. When the date you determined arrives, Boomerang sends the email back into your inbox as a new message. This simple yet brilliant concept is well worth the $30 one-time fee. If you're a skeptic, there's a free trial available.
Genius Scan+ – Traveling for business is a wonderful thing. You do your work, and the company pays your expenses. Even though nobody wants to complain about this arrangement, it's admittedly a bit irritating to keep track of receipts. It's also annoying to reconcile those receipts after the trip. I've tried conventional strategies like using envelopes and writing notes on receipts. Those ideas didn't work. Then I discovered the iPhone app Genius Scan+, and my problems disappeared. This well designed app allows you to quickly scan copies of receipts using the camera on your phone. Then, you can save the receipts into multiple page PDF documents in a matter of seconds. Once you get back to the office, you can email yourself the completed PDF document containing all of your receipts from a trip. There's also options available for syncing with Dropbox, Evernote, Google Drive and more. Basically, submitting your expense reports couldn't be any easier. Genius Scan+ is well worth $3 in iTunes.
Buffer – Most people daydream about a social media utopia. In this fantasy land, you're actively posting on Twitter, Facebook, LinkedIn and more all day long. Unfortunately, the realities of family, life and work make this an impossibility. However, Buffer enables you to maintain your social media credibility without being endlessly glued to a smartphone or computer. Basically, you connect it to your social media accounts (Facebook, Twitter, LinkedIn, etc) and develop a schedule as to when you want content posted to each. Then using the well-designed website, app, or browser plug-ins you can create and organize your content. When the scheduled time arrives, Buffer posts the content for you. It also provides you with helpful analytics along the way. Since you only need to develop your posting schedule once, you can spend your time filling-up your cue with great content. Most importantly, Buffer enables you to treat social media like other aspects of your life. You can schedule it as a daily task, and then move on to other business.
'Quick Parts' in Outlook – Email can become excessively time consuming. I found myself most irritated by the fact that I'm constantly writing the same things over and over again. Whether it's a standard greeting, lists for clients, phone numbers or directions to my office, I was wasting tons of time repetitively typing the same things. In a moment of frustration, I discovered a solution buried within Microsoft Outlook. It's called 'Quick Parts'. You've probably never used it because the function has such a terrible and ambiguous name. Anyway, 'Quick Parts' allows you to save selections of texts you frequently use and quickly paste them into new email messages. Microsoft's website has detailed instructions, but it's really pretty simple. In a new email message, select the text you want to save. Under the 'Insert' menu, select 'Quick Parts' (see picture below). Click 'Save Selection to Gallery'. That selection is now saved in the 'Quick Parts' menu to insert into any future email messages.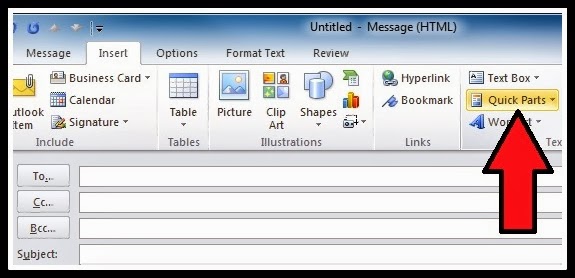 Saved Browser Tabs – This one is so simple, it's almost embarrassing to include it in this list. But, I'm always shocked to discover how many don't utilize this basic time-saving function. Too many people open their browser, and take the time to physically type-in the same set of URLs every day. Stop doing that. It's a huge time waster. Take a few moments to open as many tabs as you need in your preferred browser. Create a separate tab for Facebook, Twitter, Blogger, and any other websites you frequently visit. Then tell the browser to open all of these tabs whenever you start the program. Each browser is slightly different, but you can find the function pretty easily in Firefox, Chrome and others. I fully admit that this is a subtle time saver. But in the end, you'll find that this strategy increases your efficiency and productivity.
What productivity strategies do you use that actually work?