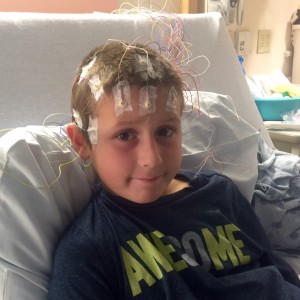 It's the kind of call you never want to receive.
My wife was out running errands, and I was home with our two little ones. Then the phone rang. Sara was hysterical. In the midst of her tears and screams, she managed to form the words that my oldest son Marshall had a seizure in the middle of class at school. She was frantically making her way to the school as paramedics, police and school staff rushed to my son's side.
As we've now pieced together, he was sitting in his desk at school working on an assignment when the teacher called his name. He sat staring and unresponsive as she continued trying to get his attention. Knowing this was out of character for him, she quickly went to his desk to see what was wrong. By God's grace, she immediately realized that he was in the early stages of a seizure. As she laid him on the ground, the seizure intensified. Soon he was unconscious and convulsing in a room full of third graders.
The school sprung into action to protect my precious little boy. And before my wife could arrive, they even took time to care for my daughter's emotional needs as emergency personnel arrived for her brother. In an act of love and kindness, they ushered her to his side for a hug before his mommy was able to give one. Then with tears of concern, Marshall's teacher updated my wife as she ran into the school.
Meanwhile, I was frozen. My oldest daughter's bus would arrive in 30 minutes, and I had no way to reach her. I was with my two young boys alone in the house, and needed to get to the school. I ran to a neighbor's house, and without hesitation their teenage son offered to wait for my daughter's bus. I loaded the boys in the van, and made my way to the school.
As I sped toward the front of the building, a police car moved to make room for my giant van. I watched as my wife came crying from the ambulance parked just a few yards away.
"He's out of it. His speech is mumbled and slurred. We're going to the hospital."
After a brief embrace, she rushed back to the ambulance and disappeared from view. As I turned away fighting back tears, I saw my youngest daughter Sophia. She was clinching the straps of her backpack, shuffling down the sidewalk sobbing. I gently guided her into the van with the boys, reassuring her as best as I could. All there was left to do now was wait for answers.
Blood work. A CAT scan. vomiting. Dazed and groggy behavior. Another ambulance ride. The neurology wing of a children's hospital. An overnight stay. An EEG. An EKG. A scheduled MRI. After all that, we have yet to determine the cause. As we've now learned, many people never discover why they had a seizure. All we know is that he won't be able to climb trees for a while. Or swim alone. The odds of another seizure are dramatically increased, and the timing cannot be predicted. Life has changed, and the days and weeks ahead will be a bit scary.
My wife Sara and I live our lives like an open book. Why? Because community can only be cultivated through shared brokenness and transparency. And I process the complexities of life through words. So less than 48 hours after this horrifying experience, here's what I'm learning:
I don't know how much to cry in front of my kids. I haven't cried that hard in a long time. The last two days have been a battle between adrenaline and tears. Part of my job as a dad is to keep my other children calm and safe. I need to reassure them and answer their questions. But I simply don't know how much they should see me overcome with emotion. They've seen a little. Most has been behind closed doors.
Social media is overwhelming amazing. Within a few hours, my son was bathed in prayer around the world. Family, friends and strangers were praying for us in Minnesota, Illinois, Ohio, Pennsylvania, Tennessee, Turkey, New Zealand and more. Now more than ever, I'm grateful to God for Facebook.
Watching kids process a crisis is heartbreaking. I'm so proud of my daughters. The little guys are too young to know what's going on. But my girls showered me with the love of Jesus when I was too weak to make it alone. And my heart broke as I heard them processing what was happening to their brother. They asked, "Is Marshall going to die?" And, "I don't know what I'd do without my brother." They hardly slept they were so worried. When they sheepishly tiptoed downstairs early yesterday morning, Sophia asked, "When people die of seizures, do they die in their sleep?" They were restless until I could confirm that their brother was alive and well in his hospital room.
Relationships with neighbors matter. I've only lived in Ohio for about two months. Sara and I have been overjoyed to see people on our block welcome us onto their street, and into their lives. Without much effort on our part, women from MOPS and Bible Study Fellowship have showered my wife with love and support. New colleagues stopped their lives to help and pray. We wouldn't have made it without these precious people. Jesus modeled the importance of community. The book of Acts is overflowing with illustrations of the value of life lived with others. Those lessons have renewed significance for me.
Kids are incredibly resilient. And funny. As he sat in his hospital bed yesterday morning watching a movie and eating french toast with bacon, Marshall said something that reassured us he's going to be okay. He looked at Sara and said, "My sisters can't be jealous of me doing this right now. I'm the one that was unconscious."
We're relieved to finally have Marshall back home with us. Words cannot express the gratefulness we feel to those of you who lifted us up in prayer when we needed it most. We praise God for his mercy and peace in the midst of our fears and panic. Most of all, we cling tightly to the blessing of a community stretching across great distances that carried us through a crisis.