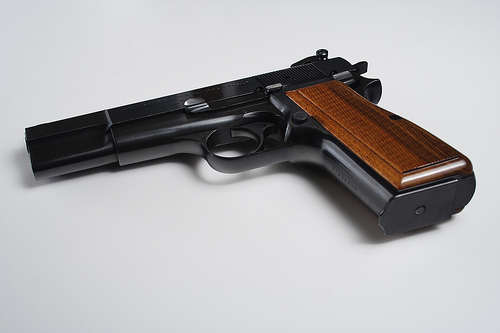 It's the mantra of many Christians in the face of highly publicized gun violence in America – "More guns!" Liberty University President Jerry Falwell Jr. highlighted this reality when he called all of his students, faculty and staff to arm themselves.
The Second Amendment is simple and direct. In fact, the very existence of this nation is founded upon the value of average citizens arming themselves in revolt against a tyrannical government. Without an armed citizenry, the American Revolution wouldn't have happened. But under what circumstances would it be wise for Christians to publicly promote exercising this fundamental American right?
I'm a guy that values critical thinking. This requires me to ask hard questions, and hold loosely to preconceived notions. If you're willing to join me in that exercise regarding guns, keep reading.
Full disclosure: I'm not a pacifist or a peace monger. My wife and I own both a handgun and a shotgun. I'm also not a theologian, and I don't claim to have all the answers. But I believe God's Word is accessible to all, and advanced degrees aren't required for thoughtful discourse.
With all of that said, let's dive in.
God's Word trumps the Constitution. In our system of government, Federal law trumps State law. In our faith, God's Word trumps everything. A healthy conversation about Christians and guns requires believers to temporarily set aside the Second Amendment. We can't let ourselves view Scripture through the lens of the Constitution.
Government Authority. Romans 13 makes it pretty clear. God gave government the role of enacting justice in society. In so doing, vigilante justice is not a Christian ethic. We're supposed to submit to government laws and authorities. Why? It's the government's job to catch and punish the bad guys. That's why we have police, courts, military, etc.
Carry a sword, and turn the other cheek. As far as I can tell, American Christians base their public advocacy of gun possession and usage primarily on one passage. Just before his arrest in the Garden of Gethsemane, Jesus said to his disciples, "…But now if you have a purse, take it, and also a bag; and if you don't have a sword, sell your cloak and buy one." (Luke 22:36) While many see this as an endorsement for everyone to carry a gun, a plain reading of this passage leaves me with more questions than answers. Particularly when compared to other commands throughout the Bible, because we know Jesus wouldn't contradict himself. Here's a few that come to mind:
The wider context. It's always a bad idea to grab a verse from the middle of a passage, and create an entire theology out of it. We need to be sure we look at the wider context. From this perspective, the sword passage may not be as clear as you think. Don't believe me? A quick Google search shows that there are a variety of interpretations of this passage. From my vantage point, it looks like the swords have more to do with the prophesy Jesus mentioned than something I'm supposed to do in 2015. Why else would only two be enough for eleven men? Take a look at the larger passage for yourself:
Then Jesus asked them, "When I sent you without purse, bag or sandals, did you lack anything?"

"Nothing," they answered.

He said to them, "But now if you have a purse, take it, and also a bag; and if you don't have a sword, sell your cloak and buy one. It is written: 'And he was numbered with the transgressors'; and I tell you that this must be fulfilled in me. Yes, what is written about me is reaching its fulfillment."

The disciples said, "See, Lord, here are two swords."

"That's enough!" he replied. (Luke 22:35-38)
The Silence of History. I haven't been able to find one instance in the Bible of any Christian using a sword after Jesus talked about buying one. Nothing in Acts. Nothing in the Epistles. Take a look at Paul's life. When attacked on multiple occasions, he either submits to it or flees. As far as we know, he never fought with a sword. I'm also not aware of any instance in the first few centuries of the church of any Christian using a sword to hurt or kill anyone. Instead, we have stories of fellowship, community, church politics, caring for the oppressed and martyrdom. I know one can't draw definitive conclusions from the absence of evidence, but in this case the silence is deafening.
The eleven who were given the directive. Did they go down swinging a sword in self defense? Do we have gallant tales of them journeying with swords on their belts, chopping criminals and oppressors to bits? Nope. Of the eleven people present when Jesus talked about buying a sword, only John died of old age. The rest were martyred for their faith.
Saul of Tarsus. By the time Saul appears in Acts, there's at least three thousand Christians living nearby (see Acts 2). He was essentially hunting and persecuting this group of new believers. Surely this small army of three thousand Christians could grab their swords and hunt down their enemy Saul. Or maybe form a band of their best swordsman to slice him in half while he sleeps. But that didn't happen. Instead, Saul of Tarsus became a beautiful and powerful illustration of what happens when you love your enemy, pray for those who persecute you and turn the other cheek. He became the most radical example of God's unconditional love and forgiveness.
The Christian objective. Our primary mission is to make disciples and teach them to follow Jesus (See Matthew 28). We're called to introduce people to the love, forgiveness, grace and mercy offered to all who would accept the free gift of salvation through the sacrifice and resurrection of Christ. So, how well do we support that cause by loudly advocating for average Christians to use lethal violence against their enemies?
At best, an unfiltered examination of these concepts should create tension in the mind of followers of Jesus. I don't see room for easy answers about Christians and guns. Instead, it makes more sense to lean heavily on what we know to be true. If God clearly gives government the authority to enact justice on earth (See Romans 13), shouldn't we more logically publicly advocate for the expansion of their ability to protect us?
I don't see anything wrong with gun ownership. The Bible seems to indicate it's permissible. That's why I'm comfortable owning two myself. But perhaps our advocacy of it should be much quieter. Or even unspoken. And our call for government to better exercise their Biblical authority should be much louder.
In the end, I don't want people to know me for my position on the Second Amendment, or for advocating Christians shooting people. I want them to know me for loving Jesus, loving my neighbor and loving my enemy.